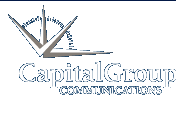 Capital Group Communications, Inc. ("CGC") provides world class investor relations, communications, public relations, strategic financial consulting, private equity for premier small cap issues to high caliber global conglomerates. We create and orchestrate strategies, financial arrangements, compelling messages and persuasive stories about our partner companies' value that garners the focus that they deserve.

CGC achieves net tangible results that produce consistent growth, opportunity and maturation for our select partner companies.

BECOME A PARTNER

Each of our clients goes through a qualification process similar to the process that major financial investment banks put their clients through in order to assess a match. To find out how you can become a client and take advantage or our vast experience in the broad spectrum of investor relations and financial services to grow your shareholder value please review the "Become A Partner" webpage.

QUICK SUBSCRIBE

Learn more and stay up to date! Get complimentary information on our portfolio companies sent directly to your In Box.
THIS SITE IS FOR LICENSED FINANCIAL PROFESSIONALS. IF YOU ARE NOT A LICENSED FINANCIAL PROFESSIONAL AND ARE INTERESTED IN ANY OF THE PROFILED COMPANIES, PLEASE CONTACT YOUR BROKER OR LICENSED ADVISOR TO DISCUSS THESE OR ANY OTHER INVESTMENTS. YOU CAN ALSO GO TO WWW.SEC.GOV AND SEC - INVESTOR GUIDE FOR FURTHER INFORMATION.
Capital Group Communications, Inc. is not in any way affiliated with, sponsored or endorsed by The Capital Group Companies, Inc.